Sam Barton, P.E.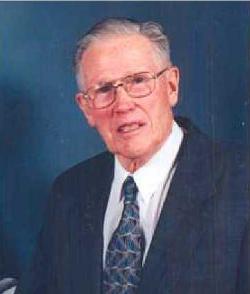 Sam is a product of The University Of Idaho Engineering School Class of 1938.
WW II Navy Veteran serving in the Mediterranean.
Technical Achievement:
In 1950 Sam opened his consulting engineering practice from his home as S. M. Barton Engineer. Sam performed many surveys and designs for cities, highway departments, and airports. His first job was the Caldwell Airport.
With a combination of Samís diligence and dedicated partners, The firm grew so that by 1970 it was known as Barton Stoddard Milhollin And Higgins, and became the Northwest District office ff International Engineering Co., a part of Morrison Knudsen.
Sam stayed on as Manager of the International Engineering Northwest District until he retired, having led the firm to be one of the most dominant in the Boise area, and performing services all over the Northwest.
During this time Sam did the vast majority of the engineering for the Boise Air Terminal from 1950 until his retirement in 1979.
Economic Contributions
Sam was a leader in bringing Aerial Mapping to Idaho.
This new technology measured terrain utilizing stereo cameras in airplanes, providing precise maps for Final Design.
Sam built on his U.S. Navy experience to bring this capability into civilian use.
Other Contributions
Over these many years Sam has worked diligently for the improvement of his community and Region, including among other contributions:
| | |
| --- | --- |
| | Member of the Ada County Planning Commission |
| | Idaho Natural Resources Commission |
| | Chairman of the Aviation Committee of the Boise Chamber of Commerce |
| | Executive Secretary/Chairman of the State Board of Licensing for Professional Engineers and Land Surveyors. Served on the Board from 1962-1982. |
| | President of the International Northwest Aviation Council |
| | University of Idaho College of Engineering Advisory Commission |
| | Life Member Of The American Institute Of Mining & Metallurgical Engineers (AIME) |
| | Idaho Society Of Professional Engineers (ISPE) |
| | Member Of The Idaho Chapter Of American Society Of Civil Engineers (ASCE) |
| | Idaho State Board Of Engineering Examiners (ISBEE) |
| | National Council Of Boards Of Engineering Examiners (NCEE) |
| | Served On The International Relations Committee |
| | Represented NCEE On The Accreditation Committee |
| | Received The Distinguished Service Medal From NCEE In 1973 |
| | Engineering Council For Professional Development (ECPD) |
| | Life Member Of The American Consulting Engineers Council And Consulting Engineers Of Idaho (ACEC) |
| | Charter Member Of The Ada County Planning Commission |
| | Idaho Nuclear Energy Commission |